Social media loves trending tales about people getting revenge on a cheating sweetheart, which is enough to make me doubt the authenticity of this story from the very beginning.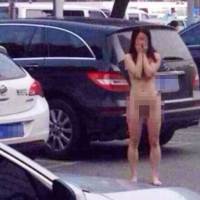 In an article published on Metro, we're looking at images of what may just be the most interesting revenge tale of the year just weeks before the end of 2014.
Chinese woman, Ting Su, 29, caught her husband cheating in the worst possible way, with her twin sister! Understandably she was devastated and upset after her discovery about their affair. So she tracked them down to a shopping centre using a mobile phone tracker.
She went to find husband Cheng, 30, who was entirely naked in a car along with her sister.
Once she arrived, she found the love-rats naked inside a parked car, which is not typically a situation you can explain your way out of.
When the cheaters got out of the vehicle (likely to try and explain things anyway) Ting got in and drove away.
The wife has now filed for divorce.
Whether this story is true or not, I certainly feel bad for Ting but she should take some comfort in knowing she got some of the sweetest revenge I've ever seen.